We're living in unprecedented, scary times right now. With the COVID-19 crisis and the stressors that come with it, we could all use a little escape from reality. Why not use your time at home over the coming weeks to turn your backyard into a relaxing oasis? With a few tips, you can create a space that you won't want to leave, even after the crisis is over! Make the most of your time at home with your own beautiful backyard oasis.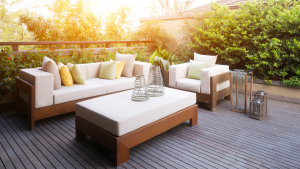 Think Comfortable and Cozy
First things first, make your outdoor living space as comfortable as possible. Bring some indoor comforts out to the deck, patio, or porch by installing an outdoor ceiling fan, adding an outdoor rug and coffee table, and filling some planters with greenery. Cozy up your seating with plush furniture, lots of pillows, and maybe a hammock or porch swing (ok, those last two aren't really indoor comforts, but don't they sound great?). Add a fire pit or wood-burning chiminea and a well-stocked bar cart, and settle in for some serious relaxation. 
Looking for a bigger project for your deck? Consider adding an outdoor kitchen complete with cabinets, countertops, sink, grill, and cooktop! Most of us already use our decks to grill, but what if you could do the bulk of your cooking outside? If you're someone who loves to cook, an outdoor kitchen could be the ultimate way to relax this summer.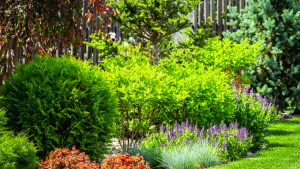 Improve Your View
Next, consider the view from your deck. Take a turn around the yard to clean up clutter and trim the hedges and shrubs. Plant the gardens with bright and beautiful flowers, and add a garden arbor with climbing, flowering vines. Consider putting in a water feature like a backyard pond or stream. These features not only add beauty themselves but also attract birds and butterflies for your viewing pleasure. 
Not into gardening or don't have space? Potted plants will do the trick. Arrange them around the deck or patio for a boost of natural beauty. Add some extra lighting too – white lights, lanterns, or rope lighting will create a warm, inviting glow. 
Create Calm
Finally, make your deck and backyard a calm, relaxing place to be. Create a sense of enclosure and privacy using a lattice, garden wall, layered plants, privacy screen, or pergola. Add some climbing vines to your pergola, lattice, or privacy screen for added beauty and seclusion. The sound of gurgling, running water is always calming – use a fountain or other water feature to mask noise from neighbors and create a peaceful atmosphere. We mentioned fire pits earlier, but a crackling fire or even some candles or outdoor lighting can definitely add a sense of calm to your outdoor living space. Have a bigger budget? Add a hot tub for the ultimate relaxing getaway right in your backyard. 
We hope these ideas help you create a relaxing backyard oasis for you and your family to enjoy this summer. If you don't have the deck of your dreams yet, Outdoor Solutions can help! Contact us today to get on our schedule so you can enjoy your new deck all summer long.