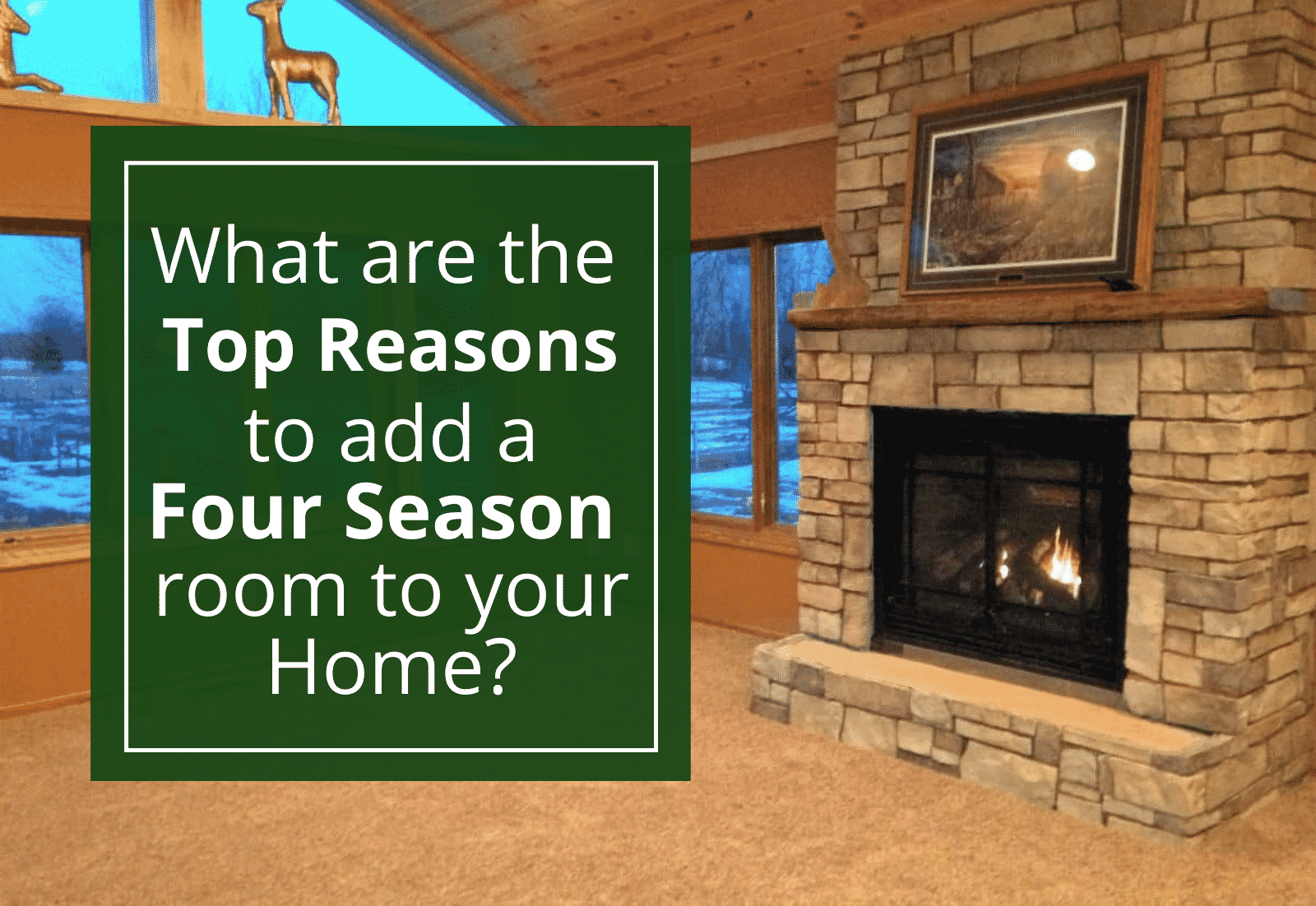 As the seasons change, the air becomes crisp, and the days get shorter, we all start to spend more time indoors. In the summer we get used to using our yards, decks and patios as extensions of our homes, so as we move more of our activities inside in the fall and winter, things can start to feel a little cramped.
If you've noticed this, it may be time to think about adding a four-season room to your home. And if the additional space doesn't convince you, read on to learn some of the top benefits to having a four-season room.
Year-Round Use
A four-season room is similar to a sunroom or enclosed porch, but it is enclosed with glass rather than screens, offering protection from the elements and panoramic views. And unlike a traditional sunroom or enclosed porch, a four-season room is insulated and heated (and cooled, if you have central A/C), offering you the chance to enjoy those views year-round, no matter the weather. It's the best way to enjoy nature and the changing of the seasons with all of the comforts of being indoors (and no bugs!). Especially in our northern climate, you can get much more use out of a four-season room than a sunroom or enclosed porch. 
If you already have a sunroom or porch, consider upgrading to a four-season room! Contact us to talk about what that would look like.
Create an Outdoor Oasis, Indoors
While there are many ways to use your four season room, creating an outdoor oasis indoors is certainly one of the dreamiest options. Think a greenhouse-like atmosphere with comfortable places to lounge in the sunbeams while you sip your favorite beverage. With the abundance of natural light coming in from the many windows, a four-season room is a perfect place for plants to grow. If you miss the joys of gardening in the winter, a four-season room could give you a taste of your favorite hobby all year. Or maybe you love to stargaze? Add a skylight and watch the stars all year long. 
Even during the warmer months, a four-season room is a great backup for outdoor gatherings when inclement weather hits. If rain is threatening your summer picnic, move it indoors and watch the storm from the comfort of your beautiful four-season room.
Increase the Value of Your Home
Adding a four-season room can not only be a delight to enjoy all year long, but it can also increase the value of your home when you sell. Four season rooms are a draw to potential buyers for the same reasons homeowners enjoy them—they improve your quality of life and your enjoyment of your home. Plus, unlike a sunroom or porch, an insulated and heated four season room increases the livable square footage in your home. Adding insulated glass or other efficiency-boosting materials will increase the cost-effectiveness of your room, making it even more attractive to prospective buyers.
Natural Light Exposure
Natural light is vastly important for our physical and mental health and wellbeing. In our northern climate, most of us don't get enough natural light—especially in the winter. The "winter blues" or SAD (seasonal affective disorder) can cause moodiness, a lack of energy, and a general sense of malaise during the colder months, and is caused in large part by a lack of natural light. A four-season room can help you soak in more of that much-needed light to help fight the effects of SAD and improve your physical and mental health.
Endless Options
As we've mentioned, a four-season room extends your living space. But the way you use this space is up to you, and there are a multitude of options. Here are a few ideas to spark your imagination:
Hobbies

Dining area 

Home office or homeschool room 

Guest room

Reading room

Family gatherings

TV room (think family movie nights while the snow falls!)

Quiet sanctuary for bird watching

Music room

Exercise room
Or anything else you can think of. Truly, the sky's the limit! However you choose to use your four season room, we know it will provide years of enjoyment for your family. 
Start Planning Your Addition Now!
If a four-season room sounds like a great fit for your home, now is the time to start planning. We can meet with you this winter to get the design for your porch ready, then save you a spot on our calendar for a build starting in the spring. A little planning now will have you enjoying your new four-season porch during next year's summer thunderstorms, beautiful fall colors, and cozy winter evenings. Do your future self a favor and give us a call today to get started—952.440.4791.